Transmission 21.2: SOMEONE BLEW UP THE BALLOONS II
Here come insights and behind the scenes from our futures practice! Travelers use these transmissions to know what we're up to, and potential travelers to know what to expect when time traveling.
This transmission is our first documented story of a failed innovation. Part 2 out of 2.
To catch up, read
Part 1
first. We left you ready to explore the contents of the object we decided to make due to a massive reroute.
---
IN ACCORDANCE WITH THE AUTHORS' WISHES…
We would like to remind you that the work done
this far possesses a clear and engaging
vision to be realized, and a list
of tools to do so. And that it
is clear that there are parts
of the community who
wish to incorporate
this into future
innovations.

The balloons were blown up.
But everything is still there.
Waiting.

You have two options:
Go through the saga and weep, or take the key and throw your own party ;)
---
== This object contains the development of our project, emphasizing the relationships between its elements. The envelope provides a set of materials that can be used by people in the future to keep working on this innovation. It rises awareness to the limits of the system you might be about to alter ==
There are three items inside the envelope, all surrounded by comforting, soft confetti:
1. Three party flyers
Three photographs coming from the same party, which can be seen as scenes from a party that happened and didn't happen.

The flyers unfold like an old-school map; and the cut in their middle is a stabbing wound– a wonderful scar of success for having gotten so far, as well as the mark of a party cut too short.
2. The Lineup (the events imagined for the party) are represented by the following interiors, and contain clues everywhere: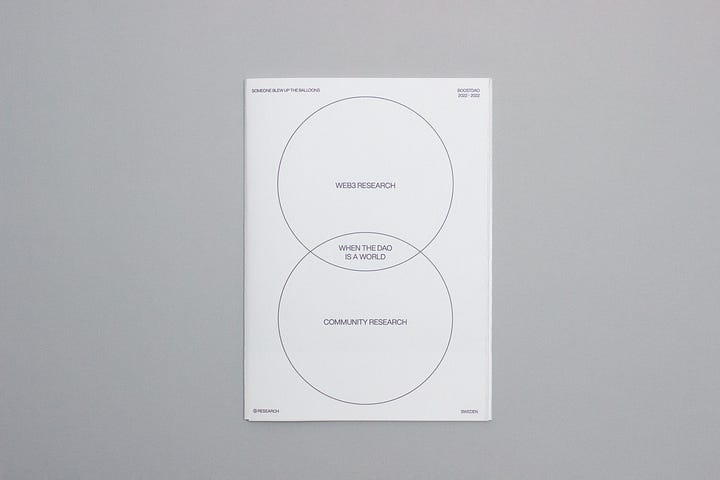 3. The three publications together are the The Key to open the party room. This is how you can continue the party.
The map is on display at Dunkers kulturhus in Helsingborg, Sweden.
It is a living story–object available to decipher.
This is The Time Travel Agency's third innovation iteration with BoostHbg after The Eye and The Index (2019), which introduced Web3 to southern Sweden; and The Walking City (2020), which prototyped an off-chain distributed work system for BoostHbg. 
Names of persons, cultural departments, visions, public entities, inspiration projects, and technologies appearing in this work are included for purposes of you being able to find them later. Produced with support from and in collaboration with 

BoostHbg

 and Hillevi Gustafson, and with the support of Ishan Shapiro in California. 
---
Four angles to explore after failing:
The importance of taking the time to question assumptions, and finding the incorrect one(s) to avoid making the same mistake later;

The value of feedback (and when) to gain a better understanding of our blind spots;

Embracing failure: Innovation involves taking risks, and not all risks will pay off. Accepting that failure helps us develop a more resilient mindset, allowing to bounce back from setbacks more quickly;

Iterate and pivot faster, even if institutions ask for longer sprints.
Revisiting parts of our process after failing:
Keep: Search together what did work.

Keep: Take the time to feel the news with clients, then act.

Change: Consult with legal counsel earlier. Most things proposed will receive objections, but find the dealbreakers together.

Keep: Be open to change course at anytime.

Keep: Encourage everyone to experiment and take risks while reminding that not everything will be successful.

Change: Celebrate the small wins. Do not wait to celebrate "the big one" because it may not happen.

Change: Install the expectation that innovation is a team effort that requires a culture or experimentation and learning.

Keep: If it matters, get ready to try again (but change one variable).

Do something with what did work, and pass it on ;)
---
Work with us
We are a speculative design and innovation studio helping to build futures where people feel happy to be alive. Our services in discovery and front-end innovation allows us to develop and implement new products, services, and processes; help organizations of all sizes to be at ease with a changing present or future; and facilitate imaginative experiences that drive growth.
If what we do resonates with you or one of your peers, get in touch through this form and let's explore dreaming and building together.
---
See you in two weeks to explore futures design in the gaming metaverse in California!