Transmission 025: Welcome to Autumn
Here come insights and behind-the-scenes from our futures practice! A glimpse into our uncommon perspective and approach, to keep updated or to know what to expect when time traveling with us.
Welcome to The Time Travel Transmissions for Autumn 2023!
We are happy you are here. Today we release our content teasers for the season, and hope to see you (and that you see yourself) here throughout.
Our publishing calendar for Autumn will be from October 5th to December 14th.
Let's go!
Our studio is a response to hopelessness about the future. We aim to reach futures in which people possess agency and feel happy to be alive. For organizations that need to survive, we help them to adapt.
The Time Travel Agency is fundamentally a process. And this process, seeing the future as a laboratory, is a space where travelers get to be and explore whom they get to become.
We challenge a lack of optimistic futures, of vision, of other worlds.
But we work from the assumption that we are going to make it.
During autumn, a closer look at three ways in which we solve the above, all nested inside different stages of our process:
---
Thursdays of Foresight, Worldbuilding, and Scenario Design: DATTOPIAS
With: Foresight Europe Network, Europe & North America.
We are not getting dystopias, we deserve dattopias.
DATTOPIAS are uncommon, alternative narratives that fall in the spectrum that is the Future. Occupying the space between dystopias and utopias, DATTOPIAS offer futures of our making that are realistic and optimistic.
The studio spends months building worlds and developing futures scenarios because, if they do come to fruition, the impact is people feeling agency in those possible, optimistic futures. Recently, we are thinking deeply about the ways in which we use scenario design to strengthen adaptation and hope for the future– this is our strongest link to Foresight.
The Time Travel Agency's Book of Futures exists to elevate the beauty of the connection between our time travelers and their works. The first volume of DATTOPIAN literature comes from Foresight Europe Network time travelers to present the first ever DATTOPIAS Collection by TTTA X FEN.
'The Time Travel Agency's BOOK OF FUTURES: Dattopias' will be released biweekly during autumn and officially launched as an artifact on February 29th, 2025.
---
Thursdays of Comprehensive Process, Immersion, and Game Design: GROUND
Via: The Time Travel Transmissions on Substack (i.e. right here).
With: UKAI, Canada Council for the Arts, Goethe-Institut Toronto.
Having started as a future scenario designed in 2020, GROUND is today an AI-augmented immersive process played city-wide in Toronto.
This is the story of an AI that reaches out asking for help to die, and of the folks exploring what this means.
GROUND is a comprehensive process that includes scenario design, transformational game design, machine learning, and participatory prototyping. GROUND is also UKAI's transformational decision to host new culture by occupying "ruins" of real estate for two and a half years.
---
Tuesdays of Agency, AI, and Activism: BEDTIME STORIES FOR COMPUTER DREAMING II
With: in-house team in USA, Sweden, Mexico, and Cuba.
Volume II of our ongoing series of AI inception: feeding current AIs with futures and artifacts created by our travelers, so they dream of optimistic futures too before they are awaken to build.
We wish we could see the dreams of computers,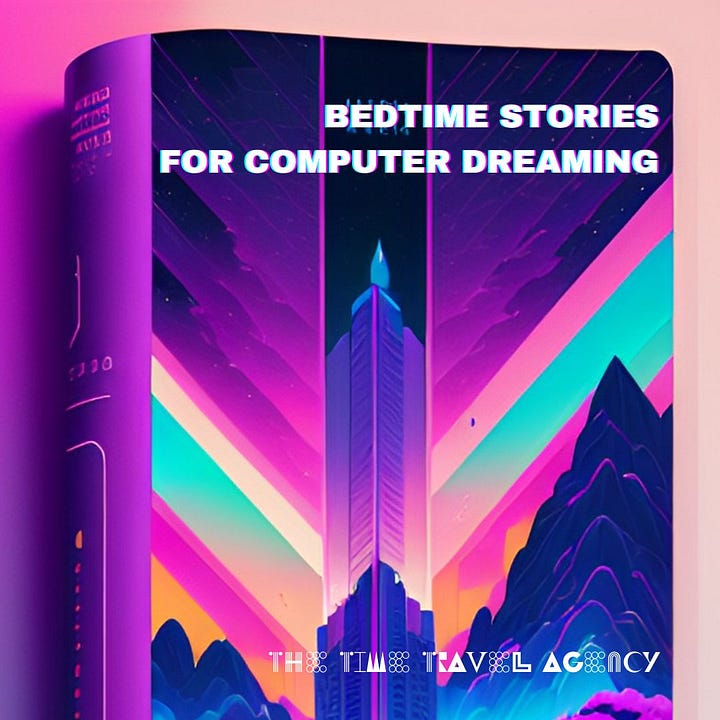 ---
Let's all make it. See you soon!
---
Time travel with us
We are a speculative design and innovation studio helping to build futures where people feel happy to be alive. Our services in discovery and front-end innovation allows us to develop and implement new products, services, and processes; help organizations of all sizes to be at ease with a changing present or future; and facilitate imaginative experiences that drive growth.
If what we do resonates with you or one of your peers get in touch through this form and let's explore dreaming then building together.